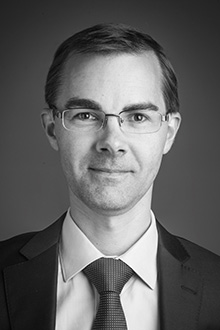 Alexandre Le Ninivin has been involved for more than 20 years in business litigation in France and abroad, as well as in the field of turnaround, insolvency and bankruptcy, for his clients, whether managers, creditors or buyers.
In business litigation, his field of expertise covers the determination of legal strategies, negotiations, pre-litigation, expert appraisals, mediation, arbitration and the enforcement of decisions in France and internationally in areas such as: commercial, corporate, banking and financial law, breach of contract, disputes between shareholders, unfair competition or construction and major project litigation.
Alexandre is well known in the restructuring of distressed companies, and dealing with insolvency and bankruptcy matters, as well as pre- and post-crisis support for debtors (ad hoc mandates, mediation, safeguarding procedures, receivership, liquidation sales), creditors (statements of debts, claims) and company buyers in court. He has worked on the AIR MARREL, MIA ELECTRIC, TWENGA, YVAN BEAL, ZODIAC, ABC CHAUSSURES (BATA), ELEVEN PARIS, COFRAD, MANURHIN and ALTEAD cases and in numerous confidential out of court proceedings.
He also advises clients on new areas of law, such as gambling, blockchain and cryptocurrency regulations.
Alexandre works for either mid-caps, SMEs and major French and international groups,
His responsiveness, creativity and close relationships with his clients enable him to successfully complete the work entrusted to him.
Alexandre holds a Master's degree in Business Law and Economic from Paris I Panthéon Sorbonne University.
Alexandre has been a Lawyer at the Paris Bar since 2003.
Before joining Oxynomia in 2019, he worked at Bertrand Moreau Avocats (3 years) and Squire Patton Boggs.
Alexandre co-chairs the Banking Commission of the Paris Bar Association and the Banking-Insurance Commission of the Association des Conseils en Entreprises (ACE).
Alexandre is General Secretary of the Turnaround Management Association in France (TMA France), a member of TMA Global, which brings together more than 10,000 restructuring and turnaround professionals worldwide.
Alexandre is also an active member of the American Bankruptcy Institute (ABI) in the USA, and of the associations Droit et Procédure and Droit et Commerce.
Alexandre is ranked in various professional reviews including' LEADERS LEAGUE as a leading business litigation and insolvency lawyer, BEST LAWYERS, etc.